Casio watches: Resistance and design, with Japanese technology.
Pwe might identify ourselves a question ...Is there anyone who does not know Casio watches?….We believe that not. Worldwide recognition for its technology and design brand, of Japanese origin, It is a reference in watchmaking. Characterized by its innovation in digital systems, the CASIO watches they practically do not need presentation. They are functional, resistant, at the forefront of the design we... possibly be unqualified. And us, Miguel Relojería jewelry Casio to the Axarquia premium distributors (Malaga).
Such is the variety of watches that we prefer to present the different catalogues of major brand ranges.
Casio watch collections more important.
G-Shock watches Casio.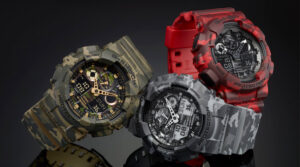 Watches with shock resistant structure. They are resistant to strong impacts, powder, vibration and temperature extremes. They have one extensive collection of watches in vivid colors, for both man as for woman (This type of structure is included in the Casio baby-g range). Casio G-Shock Watches develops a wide technology in features for both sports Sea, land or air. And your design does not leave unmoved to anyone. We leave you a sample of some of the models we have available at this time in our online shop.
Casio Baby-G watches: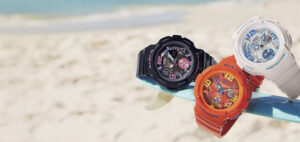 A unique combination of features and design, they are watches for a young woman, bold, without complexes.
The Casio baby-g watches, just like the previous, features of non-deformable esctrutra in box what it does resistant to shock and vibrations made in resin, funcionalides for various sports (of land and sea), and various designs. The very strong colors It is one of his most striking qualities. Here we have a small representation some ranges within the Casio baby-g watches have in our online shop.
Casio watches Retro Collection:
Sure that you had one throughout your life; If you have an age, in your youth, and if you were born recently, carry it on your wrist. The Casio Retro watches are the years 70´s and 80´s designs that you have become stronger. Today there are a wide range of models, with colors and current terminations, that you can not take them. Practical, modern, resistant and with a price of yesterday, the Casio Retro are irresistible. You can consustar all watches available in our online shop.
Casio Tough Solar watches catalog.
The "Tough Solar" eco-friendly technology works with a energy storage that is recharged with natural light, and even with the weak artificial lighting. This system is located in several lines of CASIO (G-shock, Waver Receptor, Edifice, Pro Teck ...).
You can have problems to view this catalog Casio Tough Solar watches for its format. If it were so, Click this link to view it.
Casio watches Wave Receiver technology:
This technology allows that, Once configured for the corresponding time zone clock, always indicate the exact time of the place through the reception of signals of radiofrecuecia. Forget about setting the time!!
Some examples of watches Casio Wave Receptor are:
Casio watches with Bluetooth technology.
In the year 2013, CASIO It has launched a new clock technology-based "Bluetooth" to connect your mobile phone with your watch, so you can forget about be aware to the mobile device. Only available now for Iphone, You can meet its shortterm in This entry. Easy and useful.
Some of these models You can encontarlos now in our online shop.
Casio history.
Founded by Kashio Seisakujo in Mitaka (Tokyo, Japan) in 1946, CASIO began manufacturing the first prototype of electric compact calculator. In August of 1972 launched the call "Mini Casio", a product that made calculators not only an instrument within enterprises, If that did not come to the home for use at an affordable price. After all, people also needed to make calculations at home.
Later this success, Casio was at the top of the industry electronic calculators. To strengthen their income, the company decided to diversify their business producing watches. At first sight, electronic calculators and watches seem to be completely different products; but at the same time, in the 70´s watches were suffering a technological revolution pass the rope mechanism to the machinery of quartz. For example, Digital timers consist of a counter that measured beats from the quartz crystal oscillator; in other words, a simple plug-in that shows how it is calculated every second time. This was a product that enabled CASIO to maximize the LSIs and did develop electronic calculators.
In 1974 goes on sale Casiotron. This digital clock not only showed the hours, minutes and seconds, If it was did not have the characteristic to visualize automatically the day of the month.
This philosophy of synergies forms part of the Casio's corporate creed, "creativity and contribution", which expresses the desire for contribution to society of this company, Since it puts at your disposal the most useful and original products. Equipped with innovative functions, They help people in their daily lives and maintain the progress of society as a whole. In addition, they bring welfare to citizens and contribute to the creation of a new culture. When is generalized use of these products, If only one, new markets are created, which in turn promotes the growth of related industries. This is the story of Casio's contribution to society: innovative products that improve people's lives.
The Casio target in the development of their products is create something where before there was nothing. This is what Casio calls going from "0" to "1". To create totally original products, Casio adds fun and comfort to everyday life and prepares the ground for new cultural trends. The products that "create demand" they are markets on their own, have an effect of shock wave at the economic and technological level and thus contribute to one greater good.
Spend of "0" to "1" presupposes two things: excellent planning of products marked by an accurate assessment of the needs of the people; and superior technology capable of creating products that meet these needs. These are the strategic advantages of developing products Casio.
Today, Casio watches are characterized by their resistance, precision, e innovation of different digital functions depending on for what they are intended for. The design does not stay on the sidelines, If not that is integrated within the parts marking fashion trends, both before and now.
Casio official website.
Other brands of watches that may interest you.