Luxenter: High silver jewelry with Spanish name.
Es pioneer in the development of high-jewelry in silver, steel and semi-precious stones; a new philosophy of product that has the luxury within reach of the society. His specialty is to combine the top quality design and Spanish artisan tradition. The innovative impulse of Luxenter is the implementation of I + D in search of new materials and production improvements that allow them to have key secrets to success and the quality of their parts.
In consecuense, Luxenter carefully looks after the whole process of creation, from the sketch of your design so far that a case opens, to live a unique experience. Three decades of experience in design endorse them. Miguel watches jewelry want that you can wear, touch, feel those earrings or pendant without to ensure a major outlay. It's what attracts us Luxenter, variety, design and quality. That is why we are distributors in Vélez-Málaga (Malaga).
The creation a ring or set of Luxenter begins in the analysis of all of the trends international fashion and the search of materials noble for the creation of its parts. The intention is to create fashion without losing the essence of a jewel: It will endure in time. Each receives an African named in memory of the experiences of the founders of Luxenter: Carmen Lizarriturri and José Antonio Moreno.
most important collections of silver jewelry.
Here we show the 3 main collections which this year launched, with 3 estilimos highly differentiated.
Lara for Luxenter.
As it happened with Edurne, Lara Alvarez launches its own line of fine jewelry in Silver pieces where clad in pink and black combined with circonitas Black and White. O colored stones, Emulating Rubies, sapphires and emeralds are so appreciated. more straight geometric lines comprising this new range Lara for Luxenter. Feel more "rock".
You can, to others to see the complete catalog of Luxenter, visit our section "Lara for Luxenter" in our online shop.
Make a wish.
It is the coolest part of Luxenter. Continue with design "MIDI", manufactured entirely in silver law, in the 3 terminations (rhodium-plated, golden yellow gold and rose gold) and with Zircons. Fun, wearable and discreet, It is one of the more successful by its price and design.. See all models of "He makes a wish" in our online space section.
Metal collection "Africa" Luxenter for 2018.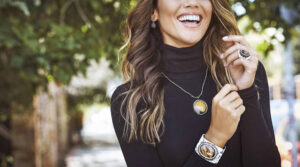 Pictures of the last pieces of 2016 of Luxenter inside "Africa", the range made of steel of the Spanish brand. Us We have chosen one that reminds us of a certain style ochetero, with large parts, golden yellow. See the section "Africa" inside our online shop.
Hannibal Laguna for Luxenter.
It is the last of the Spanish firm, a special collaboration with the designer Hannibal Laguna. They make a print run of parts with a personal and exclusive design, using silver and gold metals brightly colored crystals. the prints ochentero some air but in a modern style, with great links and stone carvings.
Of course, the Laguna Hannibla collection for Luxenter You can find it in our online shop.
Luxenter official website.
Other brands of jewelry in silver and metal we have in our shop.