Rajola: Fascination precious stones and corals.
Ve we live in a world where reason, obligations and the technology make our steps day after day, getting away from our relationship with the land, nature. However, continuing the fascination gemstones (Ruby, sapphires, aquamarine stones, different types of quartz…., etc), Coral, Turquoise and pearls; even we failed to understand the reason why we are attracted by more some than others.
Coral and Tile.
Rajola It is one of the most important companies in the production of jewelry with natural stones, above all, Coral. The coral necklace It is one of the bastions of this Italian company based in Torre del Greco. And in Miguel watches jewelry We like to know that a little piece of the Mediterranean Sea is with us in the region of the Axarquía (Malaga).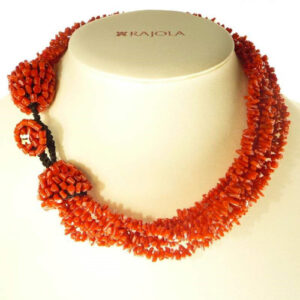 Rajola little history and its relationship with coral.
In the region of Campania, province of Naples, the town of Torre del Greco is located, close to the famous Mt. Vesuvius (This is the cause that appears a red tower with three battlements on its corporate logo). Starting from the 17TH century emerged an industry related to the collection of the Coral and its transformation in jewels and cameos.
Rajola It maintains the tradition of work on coral, but with the innovation and design that characterizes products from of Italy.
What is coral.
The Coral is generated by polyps coelenterate who built his skeleton of calcium carbonate (It is what protects them from the rest of the aquatic animals). Which are used for making necklaces, bracelets, rings and any other type of gem is coral eight tentacles (There is one of six but it is not compact enough). There are different colors Coral which receives different names: Moro, Red, Rosa, angel and white skin, from highest to lowest proportion of Red.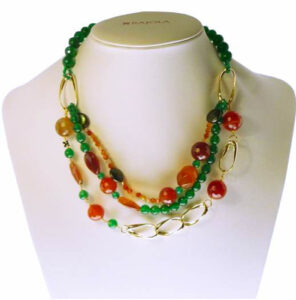 Coral necklaces and other gems, are the most important pieces of Rajola.
As we have previously referred, coral necklaces they are some of the most valuable jewellery of this brand parts. Since the more classic designs of
round beads of colares, in different colors, arranged in one or more threads and thicknesses, even more daring compositions. Branch coral necklaces, virtually no work, polished solo. Or combined with other natural materials like Onyx, Quartz colors or Ruby.
The vast majority These necklaces, whether coral, as of other materials such as turquoise, agates, Australian cultured pearls (in Baroque times)…they have a dressing complete with earrings, bracelets and rings.
Catalog summary of some jewelry pieces Rajola.
Small selection of jewelry from our property taken from diverse and extensive catalogs of this Italian House which highlights several lap collars, between five and six, in different natural gems. If You can't see This small catalog of necklaces and other jewelry, Click this link to view it.
Therefore, In summary, We are talking about a company with one long tradition both historical (from 1926) as a professional in the sector of jewelry of semi-precious stones, precious, Coral, Turquoise and cultured pearls that knows to spoil as few gems.
Gallery of some necklaces, earrings and other jewelry gems, Tile.
More firms coral jewelry and gemstones, gold and diamonds of our web.